2023 NHL Playoffs: Ranking each first-round series by entertainment value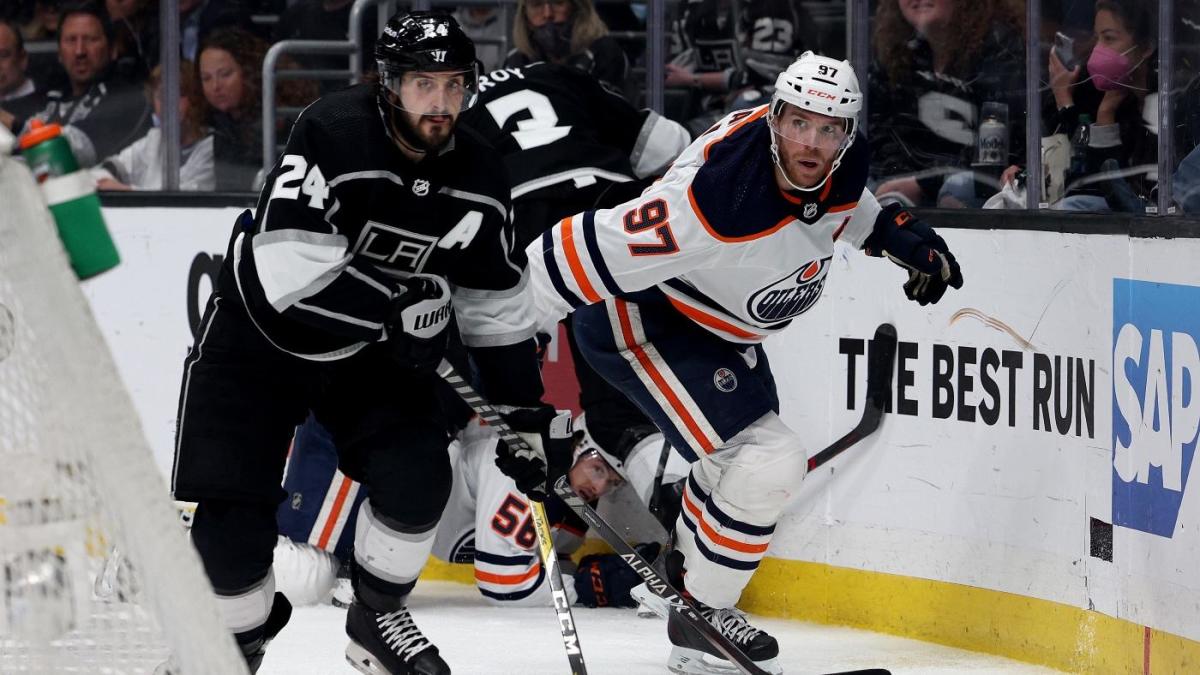 The first round of the 2023 Stanley Cup Playoffs are about to begin, and that means each night will be loaded with action. With so much hockey on every day, it can be hard to know where to focus your attention.
That's why we have put together a list ranking each first-round series by entertainment value. At the top of the list, you'll find a rivalry between two contenders, a team trying to get over the hump, and a clash of very different play styles.
While some series may have a little more intrigue than others, all playoff hockey is good playoff hockey. Stanley Cup Playoff games can't be taken for granted because they'll be gone in just a couple of months. Try to watch as many of these as possible.
If you have to prioritize some series over the others, here is each first-round matchup ranked by entertainment value.
8. Carolina Hurricanes vs. New York Islanders
If you're someone who enjoys low-scoring playoff duels, you might slot this series a little bit higher. These teams don't mind taking their fair share of point shots, and goaltenders like Ilya Sorokin and Frederik Andersen will have no problem smothering those. The other issue here is that Carolina is down a couple of stars in Max Pacioretty and Andrei Svechnikov. What makes this series interesting are the stakes. The Hurricanes are looking for the deep postseason run that has eluded them for a few seasons, and the Islanders did some spending before the trade deadline to be more competitive in the Eastern Conference.
7. Colorado Avalanche vs. Seattle Kraken
It will be awesome to see playoff hockey in Seattle, and the atmosphere in Climate Pledge Arena alone will make this series fun to watch. The Avalanche are still loaded with elite talent as they pursue their second consecutive Stanley Cup, and the Kraken have taken a huge step forward after their disastrous inaugural season. The only issue here is that there is at least a decent chance of a sweep. Colorado is still a juggernaut, even without Gabriel Landeskog, and Seattle might struggle to hang around in a seven-game series.
6. Vegas Golden Knights vs. Winnipeg Jets
There isn't exactly an established rivalry here, and this series may not be loaded with the same amount of starpower seen in others. Having said that, there is a lot to like about this matchup. Jack Eichel is making his postseason debut, and the pressure will be on him to deliver for the Golden Knights. It will help if Mark Stone is able to return from injury in time for Game 1. Winnipeg enters the playoffs after just hanging on to the final wild card spot, and there is always a decent chance that Connor Hellebuyck puts on a show. On the surface, this might seem like a mismatch, but I think there is a decent chance of an upset.
5. Dallas Stars vs. Minnesota Wild
There should be a fair amount of animosity between these two division rivals, there are some underrated stars on both rosters. Jason Robertson has become one of the best scorers in the league, and Kirill Kaprizov is capable of doing something special every time he touches the puck. It's also worth keeping an eye on any potential drama in goal for the Wild. Filip Gustavsson should start Game 1 for Minnesota, but Marc-Andre Fleury will be waiting in the wings if things don't go well. The one drawback in this series, in my opinion, is that the Stars might make it a quick one because they have looked like the superior team for most of the year.
4. Boston Bruins vs. Florida Panthers
This series is fascinating because it has the potential to get sideways. The Bruins could — and probably should — dispatch of the Panthers with relative ease. However, there is a scenario where Florida is able to give Boston some trouble. After NHL records by winning 64 games and amassing 135 points, the Bruins are facing a lot of pressure to keep that going in the playoffs. The Panthers are playing with house money, and they seemed to be peaking toward the end of the regular season. Those are ingredients for what could be a massive upset. Add in the starpower provided by Matthew Tkachuk, Aleksander Barkov, David Pastrnak, and Brad Marchand, and this series should be entertaining, no matter how long it goes.
3. Edmonton Oilers vs. Los Angeles Kings
These two teams matched up in the first round last season, and they produced a back-and-forth series that went the distance. Since then, the Oilers and Kings have both improved, and the clash of competing styles will be fun to watch. Edmonton, with Connor McDavid leading the way, loves to score goals early and often. Meanwhile, Los Angeles is one of the best teams in the NHL at preventing its opponents from scoring. Which team will force the other one to play its style of hockey? That will be the big question when the puck drops in Game 1.
2. Toronto Maple Leafs vs. Tampa Bay Lightning
Let's face it. There is an element of schadenfreude when it comes to watching the Maple Leafs in the postseason. TV ratings in Montreal and Boston are probably through the roof as those fans tune in to see how far Sisyphus can get up the hill before the rock rolls backward on him. Toronto misery aside, this is just a matchup of two great hockey teams. The Maple Leafs have a few of the best players in the world with Auston Matthews, Mitch Marner, and William Nylander in their prime. On the other side, the Lightning are trying to reach the Stanley Cup Final for the fourth straight season, which hasn't happened since the New York Islanders' dynastic run in the 1980s.
1. New Jersey Devils vs. New York Rangers
As someone who grew up in a "small" or "non-traditional" hockey market, it does hurt me a little bit to put this matchup at the top of the list, but I can't help it. This series has it all. Both teams have stars up and down the lineup. Both teams have legitimate Stanley Cup aspirations. Both teams spent big to make splashes at the trade deadline. Both teams have rabid fan bases, and they do not like each other. There needs to be more hate in professional sports, and we should get some of that with the Rangers and Devils all up in each other's grill for seven games. If you can only watch one series, make sure it's this one.