Entertaining: Same operation, new location as Embassy Cafe returns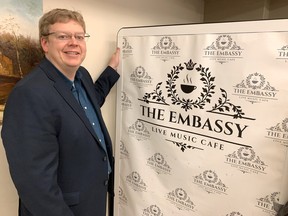 Article content
It was while he was working part time at the Kingston Harbour Light, which helps men undergoing drug and alcohol rehabilitation, that Sam MacLeod became familiar with the Embassy Live Music Cafe.
Article content
The cafe, then located upstairs in the Great Hall at St. George's Cathedral, took place on Saturday nights and was a place where people could grab a snack, a non-alcoholic beverage (it's a dry venue) and watch local musicians perform for free.
Article content
"We used to send these gentlemen down to the Embassy every week and they would look forward to it so much. It was a major outing for these gentlemen, who lived a sequestered life as they went through this rehabilitation," recalled MacLeod, who's now the general manager of the Spire, the event venue located at the corner of William and Sydenham streets.
"I had hoped that it would open back up again for people who want to go out but don't want to be in situations with drugs and alcohol and things like that."
Article content
The pandemic paused in-person performances at the Embassy Live Music Cafe, but the live music returns Saturday evening in a different location thanks, in part, to the efforts of MacLeod.
When he noticed the Embassy hadn't restarted, MacLeod reached out to Travis Blackmore of Lionhearts Inc., which had started the dry live music venue in the first place.
"We were approached by Sam earlier this year, and he said, 'What are you guys doing with the Embassy Cafe?' We've been running full steam with Lionhearts and we had every intention of kickstarting the Embassy again, and he just said, 'What would you think about doing it at the Spire? We'd love to partner and do that with you guys,'" recalled Blackmore, who had been a touring drummer in his previous career.
Article content
"So we sat down, had a discussion and it was, like, high fives all around. They love what we do, we love what they do, and it was a way that Lionhearts could have a permanent spot for the Embassy."
Blackmore has nothing but praise for St. George's Cathedral, but it also hosts a number of other programs, like Lunch by George, which meant they had to set up and tear down the stage and sound system after each concert. At the Spire, there will be a permanent stage and sound system set up in the upper hall on the second floor of the Spire.
The same space is used by people wanting to learn everything from singing to salsa dancing to swordfighting. It also welcomes a number of different groups and meetings, including Alcoholics Anonymous, which is one of the reasons MacLeod thought the Embassy was a good fit.
Article content
"We're providing a space at no cost," MacLeod said. "And really, the point is to provide support for this community-positive organization, and for people who use our facility on a daily basis. People who are going through rehabilitation and working on bettering themselves and things like that mean a lot to our organization."
While the location has changed, the Embassy will operate the same way as it had before.
"There is a ($10) cover charge for those that can afford it, and for those who can't, we provide a free ticket. That ticket can be redeemed at the concession stand for something to eat and something to drink," Blackmore said.
"That also provides us the opportunity to give those tickets away to the shelters that we run, but also shelters across the city. And any of our partners that serve the vulnerable population will get free tickets and those folks can come out and have something to eat and drink and enjoy an evening of entertainment."
Article content
Blackmore has always envisioned the Embassy as similar to the Hard Rock Cafe, but without alcohol and accessible to everyone, not just those who can afford it.
"Food and nutrition is one thing, but there's a whole element to music. It's therapeutic. I can see the way the Embassy has had an impact on those living on the street. When they come in and they hear music, their countenance changes, their mood changes," Blackmore noted.
"So if it does that for me, it's gonna have an even bigger impact on those folks."
Performing at the reopening of the Embassy Live Music Cafe will be three musicians who played the venue regularly in the past: Shawn McCullough, Doug van der Horden and Wade Foster.
On Nov. 18, it'll be Birds of a Feather, followed by Abby Stewart on Nov. 25. There will also be three shows in December and the concert series will take place the entire year.
Article content
"We're full steam ahead," he said.
---
While the Spire will be hosting the Embassy Cafe Saturday evening, on Sunday afternoon Orchestra Kingston will be kicking off its 15th season in the Spire's main space.
Titled "The Big One," will centre around the community orchestra's performance, along with guest violinist Gisele Dalbec-Szczesniak, of Beethoven's 5th Symphony. The concert begins at 2:30 p.m. and tickets are $25.
For further details and ticket information, go to orchestrakingston.ca.
---
Another concert taking place in a church setting will be the Kingston Baroque Consort's "Baroque Passions: Heartbreak and Tenderness," featuring music by Telemann, Steffani, Locatelli and Hasse. It starts at 5:15 p.m. at St. James Anglican Church. Tickets are $25.
---
Over the years, Queen's University has been where some bands first got together — Lost Cousins, Wild Rivers and Bedouin Soundclash come to mind — and that was also the case with the Kings of Queens.
Wednesday night sees the band headlining at Stages Nightclub in what will be their biggest show to date. Joining them on the bill will be girldad and Akwa. Things get underway at 8 p.m. and tickets are $15 apiece.