Essential Photography Apps in 2023
Like most people, photographers are rarely caught without their smartphones. There are so many great apps available on iOS and Android devices that a photographer's phone can become an integral part of their kit.
Whether taking photos with a smartphone, editing images on the go, or planning a photo for capture with a dedicated camera system, this guide outlines essential apps that every photographer should consider adding to their phone.
Table of Contents
The Best Apps for Planning and Capturing Photos
PhotoPills (Android and iOS)
PhotoPills is a fantastic app for photographers who want to leave nothing to chance. It helps photographers plan their images and dial in their settings with sophisticated maps, diagrams, and tools.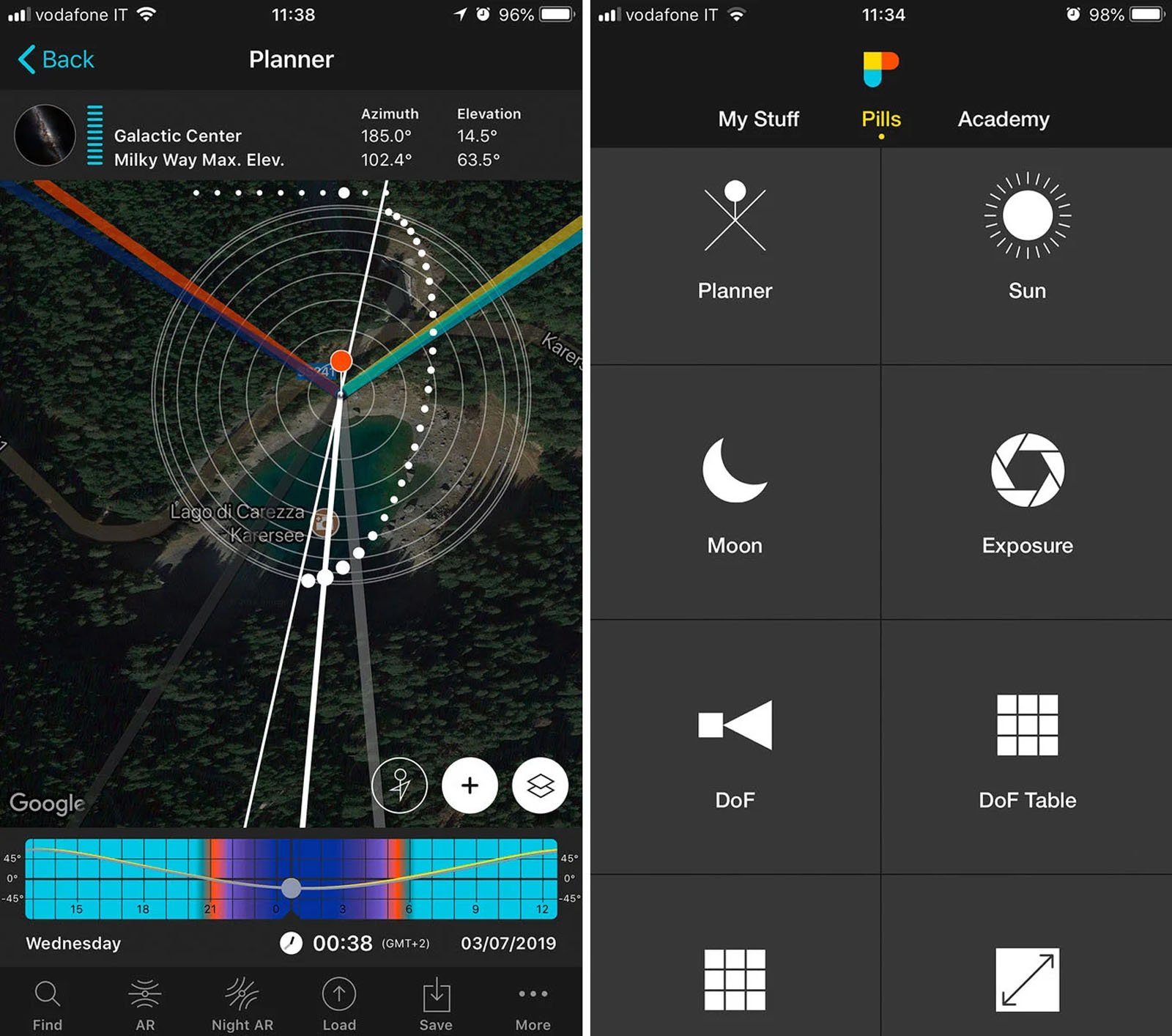 For example, photographers can use PhotoPills to pinpoint the angle and direction of sunrise, sunset, moonrise, the Milky Way, and much more. Better yet, the app lets the user change the date, time, and location, so it is possible to scout out shots anywhere in the world.
PetaPixel's guide to using PhotoPills will help photographers get the most from the app, and trust us, PhotoPills has a ton to offer.
Available on Android and iOS for $10.99. Includes in-app purchases.
The Photographer's Ephemeris (iOS)
In a similar spirit, the Photographer's Ephemeris is a landscape photographer's best friend. Available on iOS and desktop, this app offers augmented reality on iPhone and iPad, offering a preview of the sky at a selected time using a mobile device's camera. It also offers 3D diagrams and maps, offering a sophisticated preview of how light and shadow will fall over a landscape at any time.
Available on iOS for $9.99. Includes in-app purchases.
Exposure Calculator (Android)
One of the most challenging parts of using strong neutral density (ND) filters is dialing in the perfect exposure. Even though modern cameras have excellent metering systems, they can only sometimes accurately meter exposure through very dark filters.
That is where the Exposure Calculator on Android comes in. The free app allows users to set aperture, shutter speed, and ISO and add up to three ND filters of up to 30 stops to each exposure calculation.
Available on Android for free.
Long Exposure Calculator (iOS)
Long Exposure Calculator is a similar app for iOS devices. The app, which works on iPhone, iPad, and even iPod Touch, allows users to set ND filter strength and exposure settings to receive a shutter speed recommendation. The app supports up to 24 stops of ND filters and includes a built-in countdown timer.
Available on iOS for free.
MyLightMeter (Android and iOS)
Analog and digital photographers alike sometimes need a bit of help metering light. MyLightMeter Pro for Android and iOS offers stylized user interface options, incident and reflected light metering modes, the ability to save exposure data, saved lens presets, hyperfocal distance calculation, and more.
User reviews praise the app for its accuracy and utility, especially when shooting film without a dedicated light meter accessory. The app relies upon the user's smartphone camera system to meter a scene, and by all accounts, the app is very good.
Available on iOS for $3.99. On Android, the app is known as just LightMeter and is $1.99.
The Best Weather and Light Apps
Although undoubtedly related to "planning" a photography adventure, no photographer's mobile toolkit is complete without good weather apps and apps for predicting optimal photography conditions.
Alongside built-in weather apps on iOS and Android, Carrot Weather is a fun app for Android and iOS. It is free, although it offers a premium subscription for $20 per year.
Outdoor enthusiasts may prefer the highly detailed data delivered by WeatherBug. Available on Android and iOS for free with premium subscription options, WeatherBug shows how favorable weather is for outdoor activities, including information about where the latest and nearest lightning strikes were to help outdoor enthusiasts stay safe.
Skylight Forecast (iOS)
Just because the weather is suitable for being outside does not mean it is good for taking photos, either. That is where Skylight for iOS helps. The app uses artificial intelligence to predict evening light and show photographers a daily forecast for the quality of different times of day for taking photos.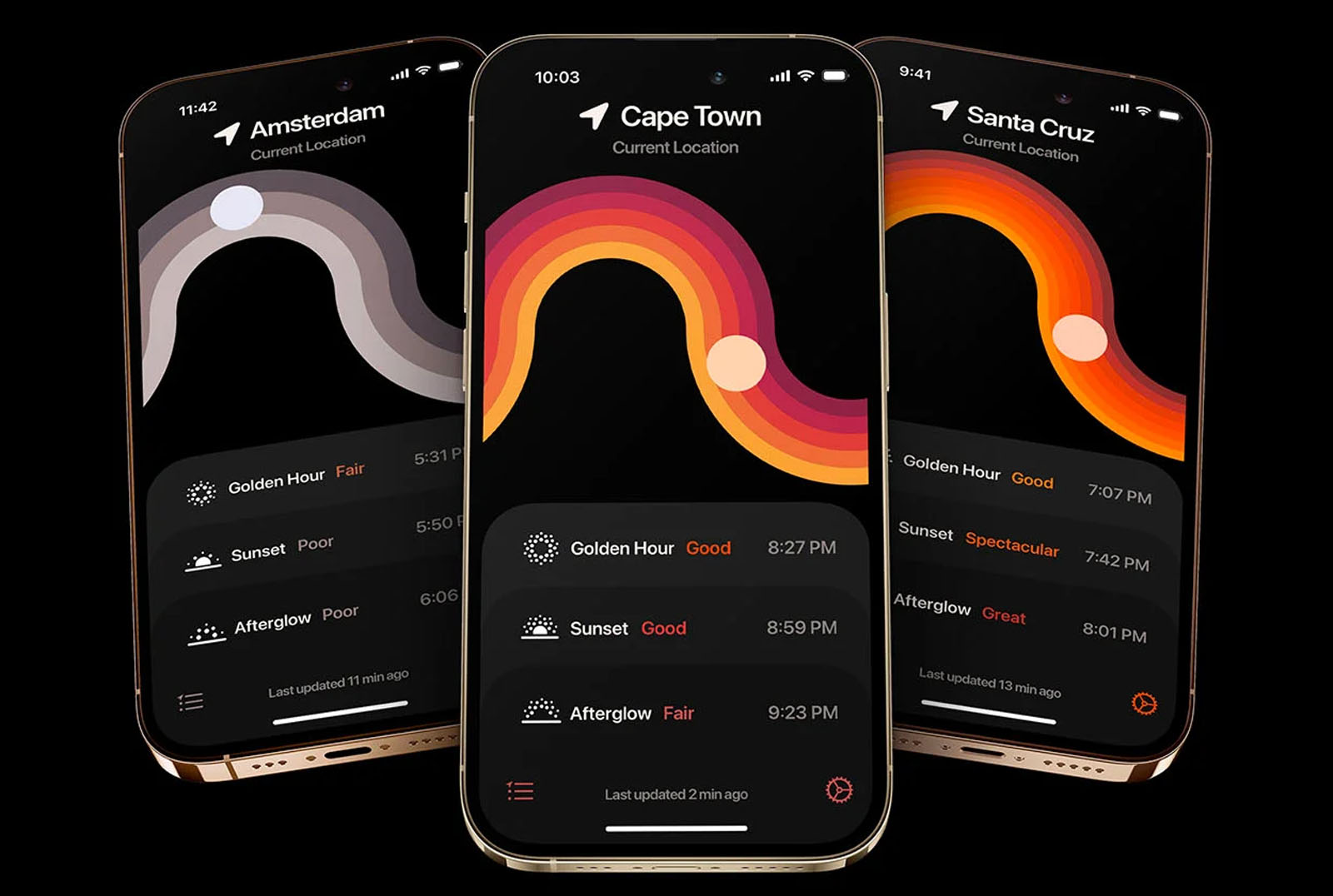 For example, golden hour is a fantastic time to take photos, but not every day's golden hour is exciting. Skylight helps photographers know beforehand if it is worth setting up a quick shoot or grabbing their gear and heading out the door for sunset.
Available on iOS for $1.99 per month or $9.99 per year.
The Best Apps for Taking Photos With Your Phone
While the apps so far have focused on helping photographers capture better shots with their dedicated camera equipment, these apps are designed to enable shutterbugs to create better photos using the cameras on their mobile devices.
Phone cameras have come a long way in recent years, with sensors getting bigger and megapixel counts increasing. Talented photographers create stunning art using their smartphones.
However, while native camera apps on iOS and Android are good enough for many, some enthusiasts yearn for more control over their smartphone cameras.
Photon (iOS)
Developed by the makers of Camera+, Photon is focused on offering iOS users professional-style image capture tools and features.
Photon offers an auto mode, but its strength is in the app's manual control over focus, shutter speed, ISO, and white balance. The app also offers control over format and resolution and the ability to shoot in RAW or Apple ProRAW formats, plus HEIF and JPEG.
The app also includes focus peaking, a histogram, grid overlay options, flash control, and more.
Available on iOS for $3.99 per month or $19.99 per year.
ProCam X (Android)
ProCam X for Android is similar to Photon in functionality, offering users control over camera settings like exposure, focus, white balance, and ISO.
Available on Android for $4.99.
Halide Mark II (iOS)
Halide Mark II offers a comprehensive assortment of controls and features. It is designed with professional photographers in mind, and its rich controls support this notion.
Despite its wide range of features and tools, the app has a relatively simple, clean user interface that heavily relies upon swiping gestures. Halide Mark II also supports the Apple ProRAW image format, delivering outstanding image quality on top of its excellent camera controls.
It is worth remembering that Halide Mark II exclusively captures photos on an iPhone and does not include photo editing tools.
Available on iOS for $9.99 per year or a one-time purchase of $29.99.
Spectre (iOS)
Halide also makes an AI-powered app just for capturing long-exposure images. Known as Spectre, the app uses AI and Apple's Neural Engine Processor to deliver stabilized handheld long-exposure photos.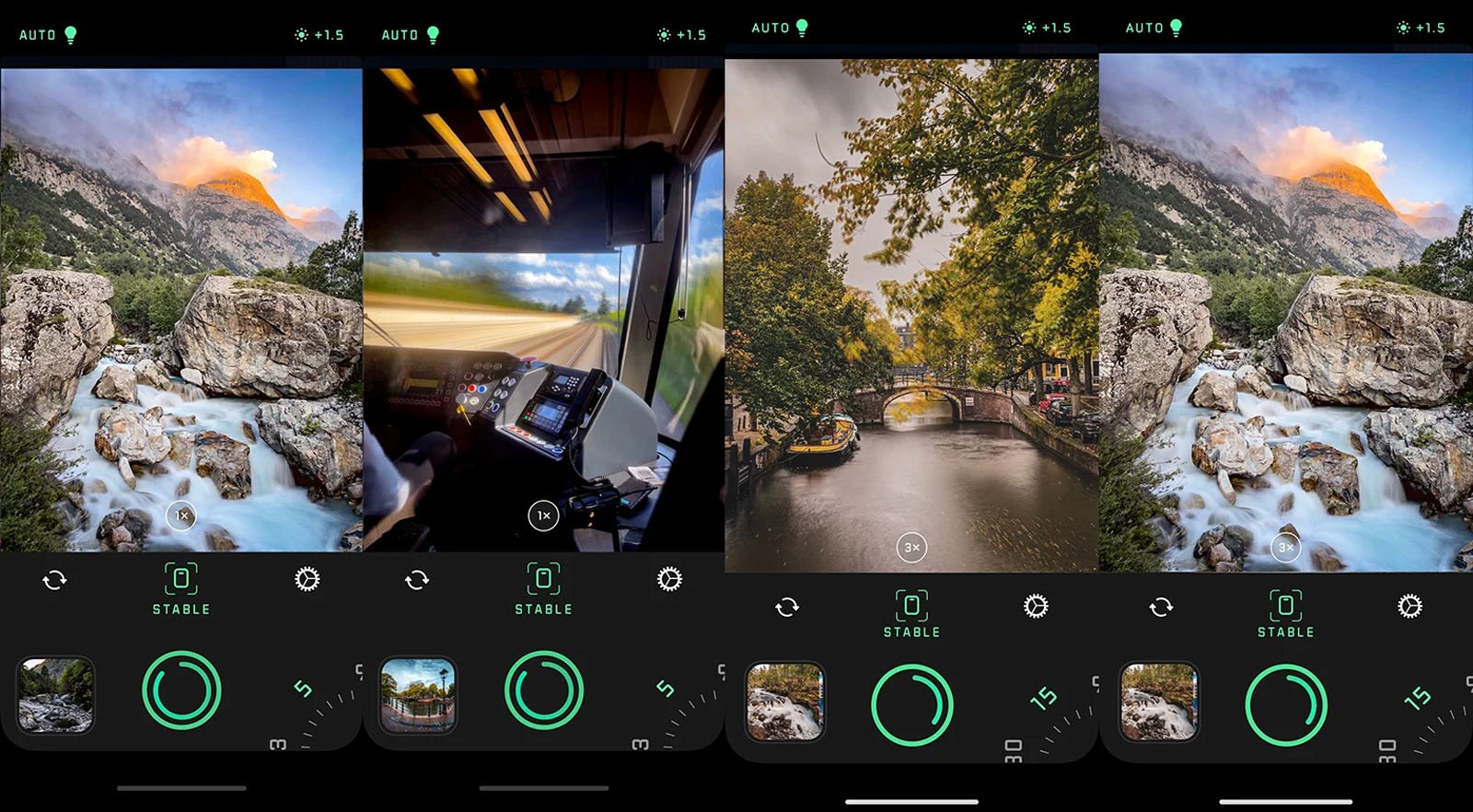 While available for free, a paid "Pro" version adds additional long exposure modes.
Available on iOS for free. Includes in-app purchases.
Filmic Pro (Android and iOS)
Filmic Pro version 7 delivers a redesigned camera interface and brand new features for Filmic's acclaimed mobile cinema app.
Designed to offer mobile users a high-end video interface, Filmic Pro offers extensive controls over camera settings, custom function buttons, and a robust interface. For any users aiming to improve their mobile video, Filmic Pro is a must-have application.
Available on Android and iOS for $2.99 per week or $50 per year.
First Light (Android and iOS)
Filmic also has a great mobile app designed for photographers called Firstlight. Firstlight includes advanced image processing, excellent visualizations, and sophisticated manual controls.
The mobile photography also includes excellent film simulations and Apple ProRAW support. Firstlight offers extensive controls over crucial camera settings like shutter speed, ISO, and focus. The app also includes focus peaking, zebras, histograms, and more.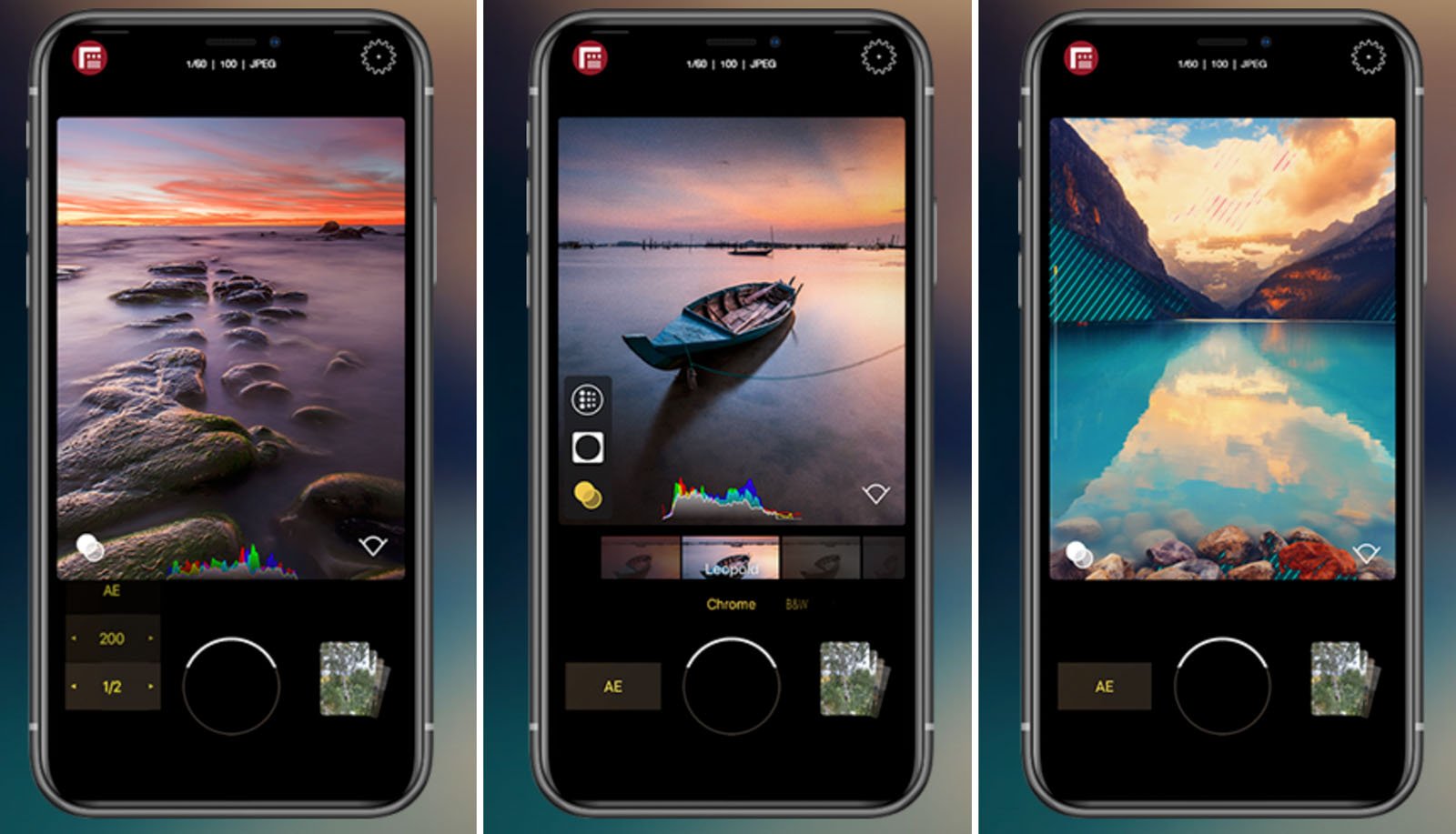 PetaPixel has previously written that Firstlight "is capable of the absolute best image quality you can get on a smartphone." For photographers looking to take great photos on their phones, what more could they ask for?
Available on Android and iOS for $7.99.
The Best Apps for Photo Editing
Whether taking photos on a smartphone or just editing images captured with a dedicated camera system, there are many ways to edit photos on smartphones.
From mobile versions of desktop apps like Lightroom and Capture One to mobile-only apps like VSCO and Pop!, mobile apps make editing and sharing your best photos easy.
Adobe Lightroom Mobile (Android and iOS)
Lightroom for Mobile brings many of Lightroom's excellent photo editing tools from desktop to the palm of your hand. The app also recently added "instant access" to photo libraries, allowing users to skip the typical import process.
Lightroom for Mobile includes powerful tools, including masking and numerous other AI-powered photo editing features.
Few apps offer as many editing tools as Adobe Lightroom for Mobile.
Available on Android and iOS for free. Includes in-app purchases.
Capture One (iOS)
After a lengthy wait, Capture One is finally available on iPhone. However, it is less powerful on iPhone than on iPad.
Importantly, even though perhaps not a complete replacement to Capture One on desktop, Capture One on iPhone delivers much of Capture One's fantastic color editing tools.
Available on iOS for $4.99 per month or less depending on a user's additional Capture One subscriptions.
VSCO (Android and iOS)
Last year, after more than a decade of making a mark in the mobile photography space, VSCO rebranded and pledged to return to its roots. The app still offers extensive photo editing tools and more than 200 presets, plus a built-in camera app, but it is now also a platform where creators can gather and share their work.
Alongside photo editing tools and film emulations, VSCO offers video editing tools with presets, color controls, and a GIF creator.
Available on Android and iOS for free. Includes in-app purchases.
Pop! (iOS)
Packed to the gills with excellent film emulations, Pop! for iOS is a great way to give photos and videos an analog look and feel.
Pop's editing interface is straightforward, although some features are locked behind a paywall. The app makes it easy to dial in the perfect film photography-inspired look and includes simple but powerful controls and sliders.
Available on iOS for free. Includes in-app purchases in the form of a one-time purchase or subscription.
Photomator (iOS)
Photomator is a powerful and easy-to-use app for iPhone, iPad, and even macOS. With support for more than 650 RAW image formats, AI-powered image editing tools, and powerful corrections, Photomator is an exceptionally robust mobile photo editing app.
In many ways, Photomator mimics the capabilities of a desktop photo editing app, albeit with a simpler, mobile-friendly user interface. The app includes non-destructive editing, impressive repair tools, and even a new Smart Deband tool.
Available on iOS for free. Includes in-app purchases