REVIEW: A Phoenix Too Frequent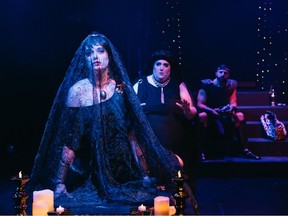 The talents of Northern Light Theatre's Trevor Schmidt directing and costume designs give lift to this season opener
Reviews and recommendations are unbiased and products are independently selected. Postmedia may earn an affiliate commission from purchases made through links on this page.
Article content
In Northern Light Theatre's latest production, A Phoenix Too Frequent, love is in the air. As the air is located in a crypt, it's damp, with an echo and dim lighting. Nearby, a corpse.
And yet, passions flare as the heroine and hero (along with a lascivious maid) discover it takes much more than mould to thwart the course of true love.
Article content
The show, a brief lark set in ancient Greece, inaugurates NLT's 2023/24 season in high style. As is tradition, NLT's artistic director Trevor Schmidt, who directs this show and designs its costumes, has selected a kick-off effort that compliments the Hallowe'en season. 
Article content
Walking into the Studio Theatre, the audience encounters a dusky underworld (deliciously designed by Alison Yanota) in which Doto (the wry Ellen Chorley) moves restlessly about the scene, waiting for her mistress Dynamene (Julia van Dam) to awaken from a fitful, grieving sleep. Sound designer Amelia Chan has chosen the delicate plucking of strings to accompany the background chirp of crickets, helping to establish a mournful, haunting tone as the audience settles in.
You see, Dynamene's husband, Virilius, has died and rests in a sarcophagus adorned with shimmering fabric and glimmering candles that is located at the foot of a set of stairs. Dynamene and the loyal Doto have pledged to die in the crypt alongside Virilius.
Early on, this seems a dubious decision. Dynamene's tearful description of the dear departed suggests he was a less-than-stirring mate. He might even have been an accountant.
"Where is the cautious voice which made balance sheets sound like Homer and Homer sound like balance sheets?" cries Dynamene, later adding that Virilius' brain "was an ironing board for all crumpled indecision."
Article content
Still, Dynamene rages at being left behind as Doto recounts her checkered history of romantic relationships. She considers widows to be blessed and wonders why Dynamene is making such a fuss.
"If we can't be free of men in a grave, then death's a dead loss," complains Doto.
Things take a different turn, however, when Tegeus — a handsome young soldier and sentry played by Brennan Campbell — enters the crypt to investigate. From here on, the script moves in an ever more humorous direction as Dynamene finds herself attracted to Tegeus, even as Doto takes a shovel to her own buried libido.
The clever script by British playwright Christopher Fry was first seen on stage in 1946 and Northern Light Theatre actually produced A Phoenix Too Frequent back in 1978. The play is based on a story by the Roman author Petronius and it features language that is poetic and complex, requiring excellent diction.
On opening night, it took a little time for the show to find its footing, but the audience's patience was rewarded. The mutual melodramatics of Tegeus and Dynamene were particularly effective, carrying the 70-minute-long production to a sweaty and comical climax. Though rooted in an ancient text, Fry's script plants nuggets of dialogue that reflect the fickle and feckless nature of romance throughout time.
Article content
Lovers may proclaim there will never be a match for that one true love, or they may insist they are so done with it all. That's all true, until another one comes along. The heart is a resilient hunter.
Side note: Congratulations are in order for Schmidt. The Greater Boston Stage Company is producing his play, We Had A Girl Before You, which was NLT's Hallowe'en opener in the fall of 2020. The show, an homage to the Victorian gothic, runs from Oct. 20 to Nov. 5 if you happen to be in the area.)
Related Stories
STAGE NOTES: Edmonton vocalist mines choir stories for world stage premiere

REVIEW: Wilde's classic, screwball comedy opens the Citadel's new season
REVIEW
A Phoenix Too Frequent, produced by Northern Light Theatre
Playwright Christopher Fry
Director Trevor Schmidt
Featuring Ellen Chorley, Brennan Campbell and Julia van Dam
Where Studio Theatre, Fringe Theatre Arts Barns (10330 84 Ave.),
When Through October 21
Tickets Starting at $20 from northernlighttheatre.com