The 50 Best Movies on Netflix Right Now (June 2023)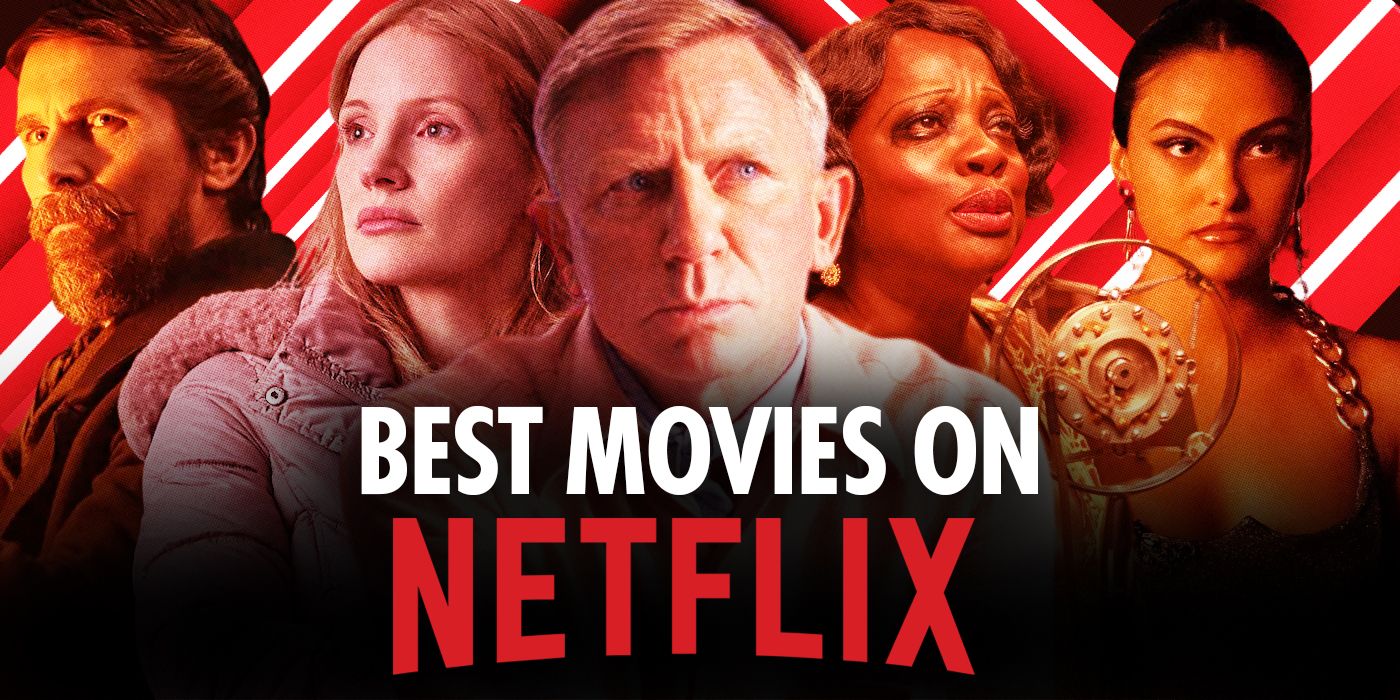 Our handy, extensive guide is updated weekly with all-new picks.
From hidden gems to films everyone's buzzing about, there are seemingly limitless good movies on Netflix. It can be difficult to choose, but this article will help you find just what you're looking for: whether it be a comedy that'll have you laughing so hard you cry or a heartbreaking drama that'll have the tears flowing for a different reason. We've compiled the best movies to watch on Netflix right now to help you with the process. Better yet? We update this list every week to keep the suggestions fresh.
And for even more recommendations, check out our list of the best shows on Netflix, best comedies on Netflix, and best dramas on Netflix.
Editor's note: This post was last updated on June 9th to include A Man Called Otto.
RELATED: The 7 Best New Movies on Netflix in December 2022
The Strays (2023)
Run Time: 1 hr 40 min | Genre: Horror Thriller Mystery | Director: Nathaniel Martello-White
Cast: Ashley Madekwe, Jorden Myrie, Bukky Bakray, Michael Warburton, Caroline Martin
Nathaniel Martello-White both writes and directs The Strays, a clever film that explores classism, privilege, and perception through a unique lens. Building tension, The Strays has been compared to Get Out, as it is also a thrilling psychological drama set in an idyllic suburban town. The film stars Ashley Madekwe (The Umbrella Academy) as Neve, a mother and wife who has carefully curated her perfect life through details and deliberate lies. Raising questions both about Neve's sanity and her reality, The Strays watches her world unravel when she mysteriously notices strangers infiltrating her delicate facade. – Yael Tygiel
A Man Called Otto (2022)
Run Time: 2 hr 6 min | Genre: Comedy, Drama | Director: Marc Forster
Cast: Tom Hanks, Mack Bayda, Mariana Treviño, Rachel Keller
Tom Hanks (Cast Away) stars in this American remake of the Swedish film adaptation of the Fredrik Backman novel about a miserable old widower who gets dragged into finding a new purpose in life by his neighbors. This film is a refreshing role for perpetual nice guy Hanks, who gets to stretch his acting muscles as he conveys grief and hopelessness in ways not often written for such a likable actor. His evolution from a misanthrope who's ready to meet his wife on the other side to a caring and begrudgingly outgoing figure is endearing to watch, and his interactions with Mariana Treviño (Club de Cuervos) as Marisol, which serve as the catalyst for this change, are the best part of this rollercoaster of emotions.
Missing (2023)
Run Time: 1 hr 51 min | Genre: Mystery, Thriller | Director: Will Merrick, Nicholas D. Johnson
Cast: Storm Reid, Nia Long, Megan Suri, Ken Leung
Written and directed by Will Merrick and Nick Johnson in their feature film debut, Missing is an anthology sequel to the hit screen life mystery thriller Searching. In addition, it's set in the world of Run, directed by Aneesh Chaganty, the creator of both films. In the signature style established by Chaganty, the film takes place exclusively across computer and smartphone screens using in-app recordings and footage, which establishes a voyeuristic feel as if the audience is watching a live stream of a tragedy happening in real-time as our POV character, June (Storm Reid), searches tirelessly for her mother. Reid gives an outstanding performance that is akin to watching a masterful one-man stage play in which she holds the pacing and drive of the story on her shoulders and carries it with grace.
Hard Feelings (2023)
Run Time: 1 hr 43 min | Genre: | Director: Granz Henman
Cast: Axel Stein, Diana Amft, Tobias Schäfer
Hard Feelings is a German teen romp where two best friends struggle with puberty and the flood of hormones drawing them together. The film doesn't take itself too seriously, as it personifies the bodily changes in fun and fantastical ways. We think teens, who often feel like they're losing control of their bodies, will get a kick out of the leads having to literally talk their body parts down from forcing them into the worst decisions they could make. Overall, is a silly good time that will have your blood pumping straight to your laugh box.
Fanfic (2023)
Run Time: 1 hr 35 min | Genre: Drama | Director: Marta Karwowska
Cast: Jan Cieciara, Dobromir Dymecki, Anna Krotoska
Based on the novel by Polish author Natalia Osińska, Fanfic is a film that explores gender and sexuality through the relationship between two teenagers desperately trying to figure out who they are as their friendship develops into something more. The film deals with issues of transphobia through the main character, who struggles with gender dysphoria and isolation as she watches the social circles of high school from the outside, all while dealing with her father, who keeps pushing her to be more feminine. It's an intimate film with beautiful contemplative shots and a journey of self-discovery that anyone can connect with.
The Mother (2023)
Run Time: 1 hr 57 min | Genre: Action Drama | Director: Niki Caro
Cast: Jennifer Lopez, Joseph Fiennes, Paul Raci, Gael García Bernal
Jennifer Lopez kicks serious ass in The Mother, a gritty, action-packed drama about a military-trained assassin intent on protecting the daughter she had to give up. Directed by Niki Caro (Mulan), The Mother features Gael García Bernal and Joseph Fiennes (The Handmaid's Tale) as terrifying villains, building a suspenseful plot that feels like a delicious blend of Taken and Hanna. The Mother truly succeeds as both an action film and a drama solely due to Lopez and her innate ability to embody strength and vulnerability, love and passion, and fluidity through intense scenes and stunts. – Yael Tygiel
Where the Crawdads Sing (2022)
Run Time: 2 hr 5 min | Director: Olivia Newman
Cast: Daisy Edgar-Jones, Taylor John Smith, Harris Dickinson
Based on the novel by Delia Owens, Where the Crawdads Sing combines thriller and mystery with its central romance. The movie follows a girl named Kya (Daisy Edgar-Jones), a neglected yet determined young girl in the North Carolina marshland. When a local man is found dead, she finds herself suspected of his murder — as well as in a complicated love triangle with golden boy Chase (Harris Dickinson) and supportive Tate (Taylor John Smith). With beautiful visuals and an intriguing story, Where the Crawdads Sing is a solid romance with a dark twist. – Taylor Gates
One More Time (2023)
Run Time: 1 hr 25 min | Genre: Comedy Drama Romance | Director: Jonatan Etzler
Cast: Hedda Stiernstedt, Maxwell Cunningham, Elinor Silfversparre
One More Time is a backward 13 Going on 30 meets Groundhog Day. A Swedish film, One More Time follows Amelia (Hedda Stiernstedt), whose birthday wish takes her back to 2002, her 18th birthday, forcing her to relive the day again and again. With a premise not too dissimilar to 17 Again, One More Time broaches universal themes of friendship, fixing mistakes, and reevaluating life choices. One More Time finds a clever and charming way to explore a story that could be seen as redundant, with a pleasant script from Sofie Forsman, Tove Forsman, and Mikael Ljung. – Yael Tygiel
A Tourist's Guide to Love (2023)
Run Time: 1 hr 36 min | Genre: Comedy Romance | Director: Steven Tsuchida
Cast: Rachael Leigh Cook, Scott Lý, Missi Pyle, Ben Feldman
Written by Eirene Donohue, A Tourist's Guide to Love is a romantic film about resilience and second chances. Starring 90s teen romance icon Rachael Leigh Cook (She's All That), A Tourist's Guide to Love unravels a beautiful love story born of heartbreak when Amanda Riley (Cook) travels across the globe to Vietnam, assigned to learn about tourism, where she inadvertently meets a charming and free-spirited tour guide played by Scott Lý. Notably the first Netflix film to be shot in Vietnam, A Tourist's Guide to Love is an eye-opening adventure co-starring Missi Pyle and Ben Feldman. – Yael Tygiel
Kings of Mulberry Street: Let Love Reign (2023)
Run Time: 1 hr 49 min | Genre: Family Comedy Drama | Director: Judy Naidoo
Cast: Jonathan Taylor, Kogie Naidoo, Liam Dunpath, Shaan Nathoo, Hamish Kyd
Written and directed by Judy Naidoo, Kings of Mulberry Street: Let Love Reign is a playful family film about a couple of kids on a wild rescue mission. The second movie in the Kings of Mulberry Street series, Let Love Reign once again follows Ticky and Baboo — this time as they attempt to save their granny from the evil clutches of a former cop, Commander Veerasamy. Through persistence and passion, the duo put on an elaborate musical masterpiece pretending to be Bollywood celebrities in hopes of freeing Granny Chetty. Kings of Mulberry Street: Let Love Reign has the friendship of The Little Rascals with the spectacle of Trolls and a whole lot of heart. – Yael Tygiel
Chupa (2023)
Run Time: 1 hr 35 min | Genre: Family Adventure | Director: Jonás Cuarón
Cast: Christian Slater, Demián Bichir, Julio Cesar Cedillo, Evan Whitten
Chupa is an adorable family movie from director Jonás Cuarón. Starring Evan Whitten as Alex, a young teen who discovers a strange mythical creature while visiting his relatives in Mexico, Chupa delights with action and adventure, along with some enchanting whimsy. Co-starring icons Christian Slater (Mr. Robot) and Demián Bichir (Let the Right One In), Chupa charms with a bit of mystery and a whole lot of heart. Thematically similar to E.T. the Extra-Terrestrial, Chupa is a modern Mexican film brimming with a universal message of unconditional love and family. Additionally, the CGI chupacabra creature is as adorable as a Gremlin or Stitch from Lilo and Stitch. – Yael Tygiel
Murder Mystery 2 (2023)
Run Time: 1 hr 29 min | Genre: Mystery Comedy | Director: Jeremy Garelick
Cast: Adam Sandler, Jennifer Aniston, Mark Strong, Adeel Akhtar, John Kani
Reuniting Adam Sandler and Jennifer Aniston for a third time, Murder Mystery 2 follows their husband and wife team as they attempt to keep their detective agency afloat. Joining Sandler and Aniston in reprising roles from the original film are Adeel Akhtar as The Maharajah and John Kani as Colonel Ulenga, among others. Directed by Jeremy Garelick, Murder Mystery 2 brings Nick and Audrey (Sandler and Aniston) a new mystery to solve when Maharaja is suddenly kidnapped from his own extravagant wedding. Overflowing with Sandler's signature goofy humor, as well as familiar faces, Murder Mystery 2 is a playful stay-at-home sequel adventure. – Yael Tygiel
Furies (2023)
Run Time: 1 hr 50 min | Genre: Horror Action | Director: Veronica Ngo
Cast: Veronica Ngo, Dong Anh Quynh, Toc Tien, Thuan Nguyen, Song Luan
Furies is a gritty follow-up to Veronica Ngo's 2019 film, Furie. Considered a prequel of sorts, the action-packed Vietnamese film follows the training of a trio of fierce vigilantes who seek revenge on a criminal underworld that abuses women. Starring writer/director Ngo, along with Dong Anh Quynh, Toc Tien, Thuan Nguyen, and Song Luan, Furies beautifully transforms the modern world into 1990s Saigon with a creative flair and an engrossing aesthetic. With a thoughtful script, Furies explores the emotional turmoil caused by a sinister syndicate and the determination which drives these badass warriors to risk it all. – Yael Tygiel
The Magician's Elephant (2023)
Run Time: 1 hr 39 min | Genre: Animation, Comedy, Family | Director: Wendy Rogers
Cast: Brian Tyree Henry, Natasia Demetriou, Mandy Patinkin, Benedict Wong
Based on the fantastic novel of the same name written by Kate DiCamillo, The Magician's Elephant is a whimsical and inspirational story of bravery in the face of the impossible. When a fortune teller convinces Peter (Noah Jupe), a young orphan, that he must follow a magical elephant to be reunited with his sister, he agrees to perform Herculean tasks to win the prized pachyderm. In his attempts to perform these gargantuan feats, he is aided and supported by a wonderful cast of characters with equally amazing voice talents, including Brian Tyree Henry (The Eternals), Mandy Patinkin (The Princess Bride), and Benedict Wong (Doctor Strange). – Tauri Miller
Luther: The Fallen Sun (2023)
Run Time: 2 hr 9 min | Genre: Crime Drama, Mystery, Thriller | Director: Jamie Payne
Cast: Idris Elba, Cynthia Erivo, Andy Serkis
Idris Elba (The Suicide Squad) reprises his role as John Luther, the disgraced London detective who always gets his man by any means necessary. At its core, Luther has always been a new take on the Sherlock Holmes character, and in this new film that takes place after the events of the series, it seems he has finally found his Moriarty in the brand-new character David Robey, played by Andy Serkis (Lord of the Rings). Luther: The Fallen Sun makes great use of the film budget and promises to give fans bigger action sequences and an epic narrative displaying the full force of the London police as they chase down Luther, who has escaped prison to capture a serial killer. For long-time fans of the Luther series, this movie will be the next chapter we've all been waiting for. – Tauri Miller
We Have a Ghost (2023)
Run Time: 2 hrs 6 min | Genre: Comedy Adventure | Director: Christopher Landon
Cast: Jennifer Coolidge, David Harbour, Tig Notaro, Anthony Mackie
We Have a Ghost is a silly horror comedy about a family who moves to a new town and meets the ghost haunting their home. Writer/director Christopher Landon captures David Harbour's innate playfulness, who thrives in humor with his inhibited nature, dazzling as the ghost Ernest. Melting genres, We Have a Ghost crosses from humor and horror to action and mystery as the story follows how Ernest's exposure makes them an overnight sensation, ultimately inviting media, fanatics, and the government to hunt him. Supported by an all-star cast including Anthony Mackie and Jennifer Coolidge, We Have a Ghost is entertainment for the entire family. – Yael Tygiel
Your Place or Mine (2023)
Run Time: 1 hr 51 min | Genre: Romance Comedy | Director: Aline Brosh McKenna
Cast: Reese Witherspoon, Ashton Kutcher, Zoe Chao, Jesse Williams
Written and directed by Aline Brosh McKenna (Crazy Ex-Girlfriend), Your Place or Mine is a traditional rom-com in every sense of the word. Your Place or Mine has two undeniably stunning leads in Reese Witherspoon (The Morning Show) and Ashton Kutcher (Two and a Half Men), takes place in major cities on both coasts, and falls into a slew of expected narrative traps. Although there are quite a few outdated ideals in Your Place or Mine, it does enjoy a fantastic supporting cast and a cute romance at its core, leaving most of the flaws worth ignoring. – Yael Tygiel
Pamela: A Love Story (2023)
Run Time: 1 hr 52 min | Genre: Documentary | Director: Ryan White
Cast: Pamela Anderson, Gregory Butler, Rob Bowman
Following Hulu's critically acclaimed limited series Pam & Tommy, actress Pamela Anderson is taking control of her narrative and allowing director Ryan White to help her tell her story in the documentary Pamela: A Love Story. Shared through her own words, Pamela: A Love Story prudently explores Anderson's journey from a teenager with dreams to a universal sex symbol embroiled in an infamous scandal. Featuring archives of never-before-seen footage, personal home videos, diaries, and journals, Pamela: A Love Story is a raw look at the trauma, ambitions, and humanity behind the pop culture icon. – Yael Tygiel
Jung_E (2023)
Run Time: 1 hr 39 min | Genre: Sci-Fi Action | Director: Yeon Sang-ho
Cast: Kang Soo-youn, Kim Hyun-joo, Ryu Kyung-soo
Directed by Yeon Sang-ho, who also wrote the screenplay, Jung_E is a beautifully designed science-fiction/action drama set in the terrifying near future. After Earth becomes inhospitable, humans relocate to shelters in space, leading to a civil war between the Allied Force and the Adrian Republic. After 35 years, a leading tech company, Kronoid, clones the brain of an Allied Forces' legendary mercenary, releasing an AI version of the Captain to save humanity. Starring Kang Soo-yeon in her final film performance before her death, Jung_E also features Kim Hyun-joo and Ryu Kyung-soo, rounding out the incredible cast of this fascinating film. – Yael Tygiel
You People (2023)
Run Time: 1 hr 57 min | Genre: Comedy Romance | Director: Kenya Barris
Cast: Jonah Hill, Lauren London, Eddie Murphy, Julia Louis-Dreyfus
Kenya Barris (Black-ish) directs Jonah Hill in You People, an uproarious comedy about race, family, and culture clashes based on a screenplay they co-wrote together. Co-starring with Hill are comedic icons Eddie Murphy (Coming 2 America) and Julia Louis-Dreyfus (Black Panther: Wakanda Forever), who absolutely dazzle in You People in a story that presents varying perspectives to universal themes, emphasizing progress and generational differences. Supported by a stacked cast, including Nia Long, Lauren London, and David Duchovny, You People's narrative relies heavily on the on-screen talent more than the written dialogue to provide the laughs in this romantic comedy about families. – Yael Tygiel